Kim & Garnet
Kim Underwood has been a newspaper reporter and columnist since 1985. Garnet Goldman is an artist and teacher.
They're married and live with Sparkle Girl and Doobins in Winston-Salem, N.C.
Kim and Garnet's latest book is The Wonderful World of Sparkle Girl & Doobins, which came out Sept. 1, 2009.
The five stories in the 48-page picture book grew out of bedtime stories that Kim told to Sparkle Girl & Doobins. In these particular stories, Sparkle Girl and Doobins collect the ingredients for magic marbles, get invaluable help from their fairy friends, pick marshmallows from a tree, invite the Man on the Moon to tea and buy a Sweet Dream Machine for their mother.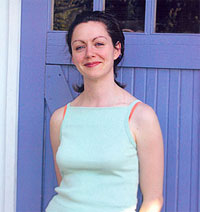 Garnet drew the pictures using colored pencils and ink. Garnet's art extends far beyond picture books. You can find more of her art at http://garnetgoldman.com/.
Kim and Garnet met when Kim asked Garnet to illustrate His Dogness Finds a Blue Heart, a 32-page picture book that came out in 2004. The story begins with His Dogness coming upon a blue heart in a ditch. He and Lord Kelvin take the heart on some adventures around Winston-Salem in hopes of cheering it up.
Kim has a third book called Oddments from the Mind of Kim Underwood. A collection of 54 columns from Kim's early days as a features columnist for the Winston-Salem Journal, it came out in 1998.
Wonderful World and His Dogness are distributed by John F. Blair, Publisher of Winston-Salem.
Click to reach Kim and here to reach Garnet. Their phone number is (336) 725-6112.