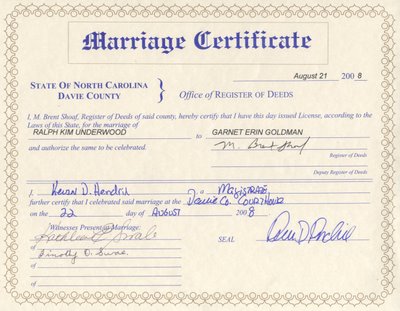 When Mr. Whitfield saw me sitting on my front steps polishing my shoes on Friday, he knew that something was up.
And he was right. Garnet and I were off to get married.
I proposed on Wednesday at Montreat, the Presbyterian retreat center up towards Asheville. To me, Montreat is a special place. My father was a Presbyterian minister, and, over the years, our family went there many times.
As an adult, I have continued to go there. Spiritually, it feels like home. Garnet had never been to Montreat, and I worried that she would find it pleasant enough but not nearly as special as I find it.
She liked it so much right off, though, that she said she hopes that Sparkle Girl will go to college there.
We were sitting by the lake. A swan was swimming around. It was a nice touch, I thought.
We had just come from Black Mountain where Garnet had bought four truffles at a shop that makes the chocolate confections right there. She was eating Truffle No. 2 when I asked. So, from here on out, she will be able to say, whenever she wants, that it was all a big misunderstanding and that she was saying, "Yes!" to the truffle.
We wanted to keep things simple. So we decided to get married at the magistrate's office in Mocksville where her parents live.
On Wednesday night, we told Sparkle Girl and Doobins. On Thursday, we told my mother. After saying how delighted she was, she added that she thought it was about time. Then we drove out to Mocksville to tell Garnet's parents and to pick up a license.
That night, Garnet said that she thought it would be nice if I bought new black pants on Friday morning as long as shopping for them didn't make me cranky at wedding time. As for the tie, there was no question about the right one to wear – the one with hula girls that Sparkle Girl painted for me.
Doobins said that he wanted to look handsome for the wedding. On Friday morning, he picked out a pair of black shorts and a red shirt to go with the bright yellow Crocs that he wears everywhere.
He looked plenty handsome.
Sparkle Girl wanted to wear the gold dress that Garnet's grandmother made for Garnet when she was Sparkle Girl's age. It was the last piece of clothing her grandmother ever made, and Sparkle Girl looks very beautiful in it.
I found black pants in the first place I went in. The store had other colors in the same style, and, for a moment, I thought about continuing to shop. I came to my senses.
Back at my house, I sat on the steps and polished my shoes. The Whitfields – Pearl and R.L. were out on their porch. After I finished, I went over to tell them. Pearl said that R.L. knew something was up when he saw me polishing my shoes.
Their 60th wedding anniversary is coming up. R.L. said they planned to celebrate by getting married again. Pearl said that he was going to have to make some changes before she would think about marrying him again.
It was on to Garnet's house for Garnet to get dressed. She wore a black-and-white dress. Garnet's friend and neighbor Amy does flowers for weddings professionally. As a gift, she had whipped together bouquets for Garnet and Sparkle Girl and boutonieres for Doobins and me.
At Garnet's parents' house in Mocksville, we met up with our parents and my brother, Mark, and sister-in-law, Kim, who had also brought bouquets and boutonieres. So we had flowers galore. Mark is a professional photographer, and, as a gift, he began taking pictures.
We had a 3:30 appointment at the magistrate's office. When we arrived, two sheriff's deputies were there ahead of us. They brought in a young man with no shirt, lots of tattoos and hands cuffed behind his back.
I knew he was having a bad day. For me, though, it was as nice a touch as the swan. It made it all seem more real somehow. I just hoped that no one else minded. Garnet said later that she liked it, too.
After the sheriff's deputies and man in the handcuffs left, the magistrate invited us in. He apologized for the intrusion. Not at all, I said.
He performed the ceremony, congratulated us and said he would walk the papers across the street to the register of deeds office.
Back at Garnet's parents' house, my brother took more photos. When he got to the part where he wanted to set up specific groups of people, Sparkle Girl said she wanted to be in those pictures, too.
She said that she would get behind people so that, even though no one would see her in the picture, she would know that she was there. So that's what we did.
Then Garnets' parents took everyone out to dinner.
Back at Garnet and the kids' house, Doobins talked about getting married at the police station.
In the days leading up to the wedding, I felt peacefully happy. In the days since, I have felt even more peaceful.
At one point, I started to say to Garnet that we should have done this earlier. Before I said anything, though, I realized that, for me, this was the perfect time.
I like that we have Montreat and the swan and the truffles that made Garnet giddy and the pictures with Sparkle Girl in them whether you can see her or not.